In the market segment of enterprise platforms, Interzen has chosen the differentiation strategy based on the integration of different applications.
The basic idea is the unitary vision of the company, no longer broken down into different vertical departments / functions but literally crossed by its primary and support processes managed by a single application platform. From the initial management of the "lead-to-cash" process – from the search for the potential customer to the collection of the invoice – now the ZenShare Suite sees the introduction of the ZenProject project management module, which allows the management both of primary production process and of complementary support processes. The ZenShare Suite makes a significant leap in quality, offering the end customer , who operates in the field of services, an application tool that is practically unique on the market, capable of integrally managing multiple processes:
marketing (primary process)
sales (primary process)
customer care (primary process)
administration (support process)
project management (primary process)
purchases (support process)
human resources (support process)
e-invoicing (support process)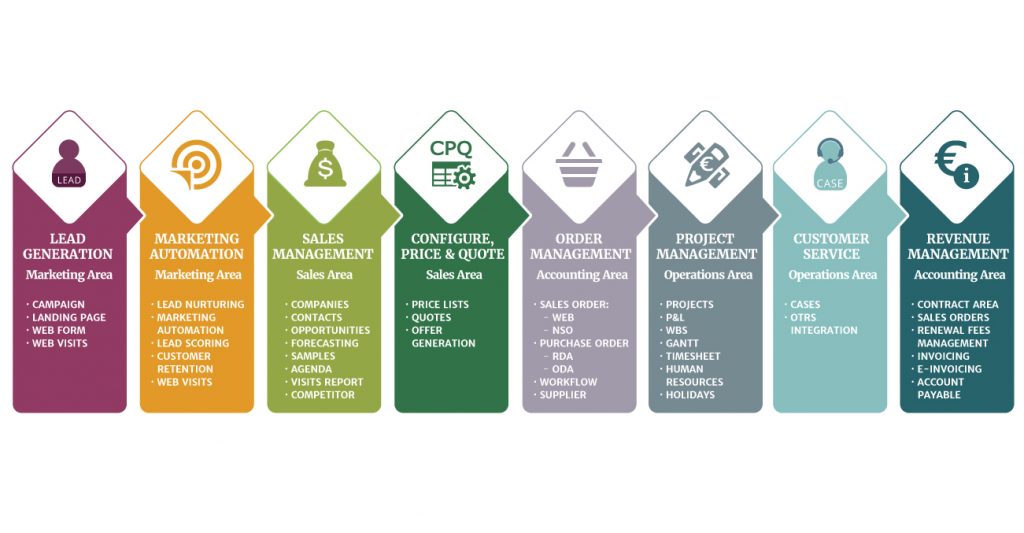 What kind of advantages does a company get with ZenProject?
an integrated management of business processes
more efficient sharing of information within the organization and a better level of customer service
elimination of context-switching while using the software platform
optimization of daily tasks execution time
a sharp reduction in human error
opportunity to concentrate in one place strategic business information
a single supplier for multiple business applications in a single enterprise platform
availability of a Smart Working ready solution
Are you interested in ZenShare Suite?