What we do
Founded in Pescara in 1996, Interzen is an information technology consultancy company, focused on the automation of business processes.
Interzen addresses the medium and large companies – both nationally and internationally – by offering its ZenShare Suite, a unique, integrated and modular platform for Customer Relationship Management, Project Management, Workflow, IT Protocol and Electronic Invoicing which simplifies business operations. also in Smart Working mode.
Interzen commitment develops in two main areas:
Information Management – Manage data, information and documents in an integrated manner, to improve the efficiency of corporate governance, both in the major business processes and in those in support.
Web Engineering- Development of customized innovative technologies solutions for customers, with the aim of optimizing the management of critical business processes through digital tools.
Interzen is a company with quality certification ISO 9001: 2015.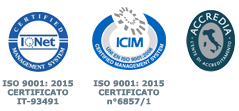 The security of the ZenShare Cloud Suite is certified in the Security Security Assurance and Risk (STAR) registry of the Cloud Security Alliance.
Address: Strada Comunale Piana,3 – 65129 – Pescara – ITALY
F.C. and VAT: IT01446720680
E-mail: info@interzen.it
Certificated Mail: interzen@pec.interzen.it